Red Realms Gallery was created as a virtual space to present Non-fungible Tokens as visual art.
"Featuring an abstract of Nature guided by the Nipinaak. A frame of Birch binds the images from another realm faced by a seed of energy that leads to its End."
————–
Red Realms Gallery is an iteration of a 15 yr old Unreal Engine project called, Gallery World. The curatorial premise was to replicate existing art spaces and exhibitions in a virtual environment. This would facilitate a connection to the artwork and space without physicality, providing greater accessibility to those who can not visit a real Art Gallery. Virtualizing a space may provide an innovative way to disseminate art, while engaging with new and existing audiences.
The CORE Engine along with the implementation of NFT collections in-game provided the means to create a Virtual Art Space The NFT demonstrated in Red Realms Gallery provides a visual mechanism to promote art and practices. Each image displayed is complimented by a brief write up, along with a QR code to content, service, or to purchase the NFT.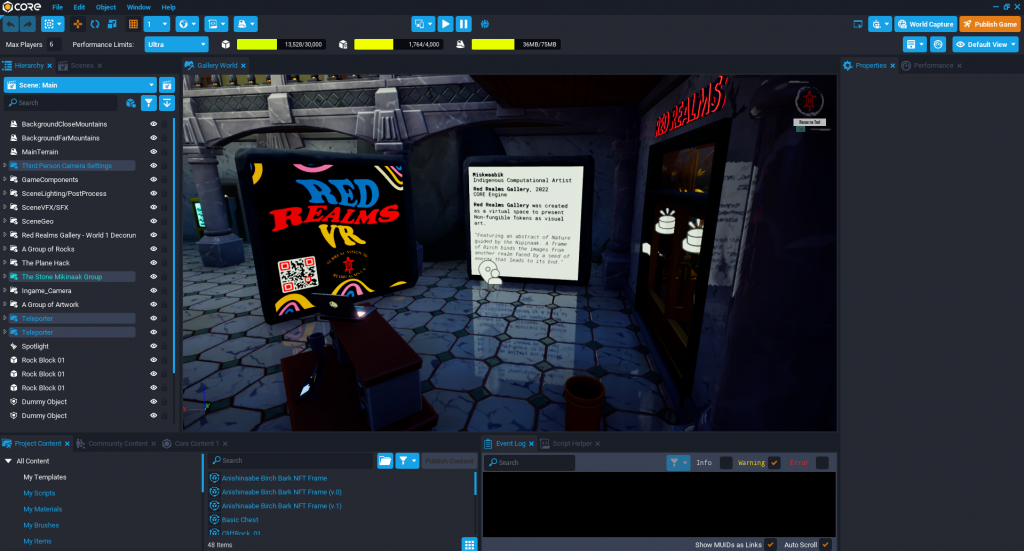 The Core IDE (Integrated Development Environment) and Community Content provided the right amount of tools and templates to create a virtual space without the complexity that other game engines provide. The Landscape scene used in Red Realms Gallery is a free-to-use Community Content. These Templates are created by Core Community members to assist others in the development of their respective virtual space or games. Templates, such as the NFT Slideshow were used to import NFT assets into the virtual environment.
Given the ease of use of the Core IDE, and the availability of Templates and technical support, the total process took less than a week. Some game assets were modified and grouped. The only CODING required was a slight modification of the NFT Slideshow script. The rest is a creative and curatorial process.
As an Artistic Process of creating Virtual Spaces for the Dissemination of Visual Art, Red Realms Gallery was a very rewarding experience.  The Core IDE is very easy to learn and use which makes it very accessible to those who do not have specialized software development skills.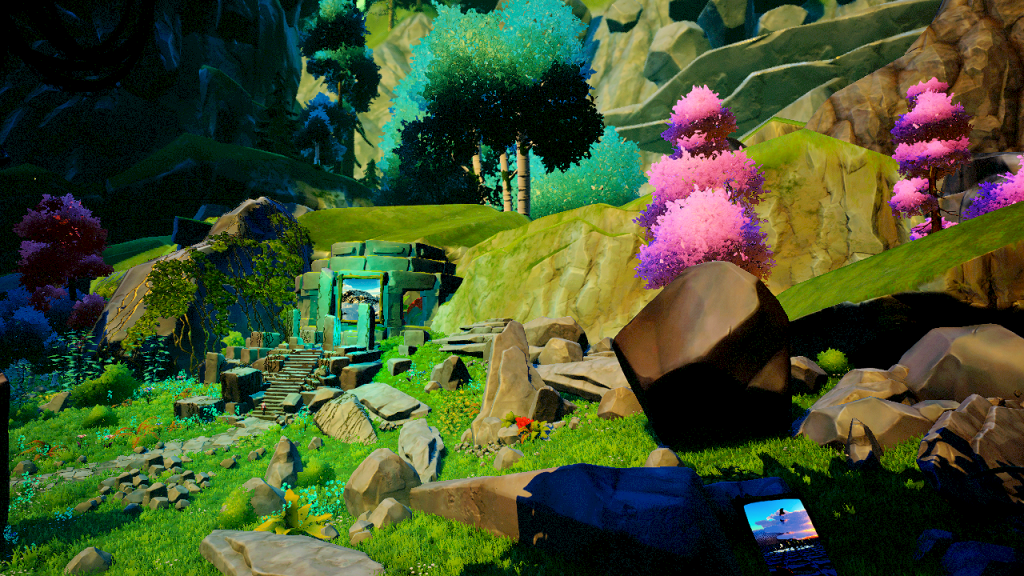 Red Realms Gallery will be demonstrated in Ottawa, Canada for an engagement regarding NFTs in Artistic Practice in August 2022.
Future iterations of Red Realms Gallery will extend the existing environment to explore different ways of disseminating art.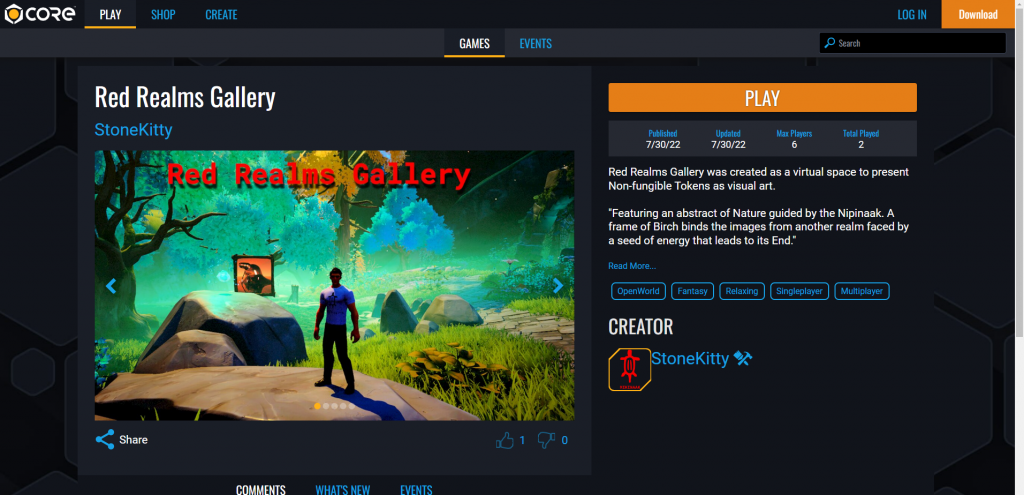 You can "Play" Red Realms Gallery by visiting the following link
https://www.coregames.com/games/16b9ca/red-realms-gallery
(You may be required to download the Core Client by Epic to Play. It's an easy install and works on most systems).
Miigwetch (Thank You) for visiting Red Realms Gallery,
– Miskwaabik